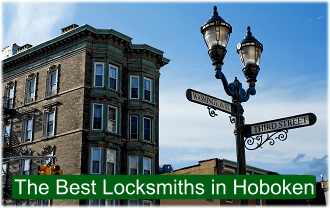 Our Hoboken locksmith team combines a group of experts that proudly serve Hudson County, New Jersey. We are in the mobile lockout business since 2001, and we possess all the latest tools and techniques of this field. When you call us, our team will provide you with the best 24 hour service in the city.
Our technicians take great pride on keeping up with current technology, so they can offer a quick solution to your lock and key problems.
Licensed Hoboken Locksmith NJ
Many locksmiths draw the locksmith business in a less honorable way. That is why our Hoboken locksmith team strives to be a trustworthy service provider when they take your job! Each and every one of our locksmiths are certified and licensed to work in the great state of New Jersey. That's right, we don't just hire locksmiths, we hire the best! Our Hoboken locksmith team members are devoted to commercial and residential services as one. We also keep an automobile locksmith expert on board in case you've locked your keys in the car. No matter what type of work you need done, emergency or not, we have what it takes to provide your peace of mind. (201) 494-2121.
Our Car Locksmiths!
The Hoboken locksmith team is fast and efficient when it comes to emergency vehicle locksmith issues. They will provide a quick, "on site" fix to your car door lock, car key and ignition problems. Trust us, when the unexpected happen, we are the ones you want providing services for your automotive keys. Whether you are locked out and need a fast car lockout service, or in need of a car key replacement, we have the right tools to get you back on your way ASAP!
Home Security
What is more important than the safety of your family and loved ones? We know how to keep your home safe and secure, in fact, that is our Hoboken locksmith team's top priority. We provide home locksmith services like lockout help, house rekey, lock installation and door lock repair on a 24 hour basis, for your convenience. Besides that, our residential locksmith can come to you and inspect your apartment or house to make sure there are no security breaches.
Business Locksmith in Hudson County
The locksmiths we hire serve all types of stores and offices, no matter what's the industry you are in. Our Hoboken locksmith team has the expertise to help you manage and control any locking system available in your business. We are proud to serve Hoboken, NJ, for all of your commercial locksmith needs.
Always Ready To Help!
Call (201) 494-2121 to make an appointment or for emergency locksmith work in Hudson County, NJ. We are more than ready to help you out when you are in a jam. Thank you for your visit! Remember, if a fast pop a lock service is needed, our Hoboken locksmith can be there in a flash!