Lost your only set of car keys? The residents of Hoboken, NJ can now enjoy mobile, fast car key replacement services at low-cost prices that fits any pocket! Nowadays, there is no reason to get your car towed all the way to the dealership to get your new car keys made or copied. Our friendly technicians can be anywhere in Hoboken within minutes of your call, and provide replacement car keys for pretty much any type of vehicle you own! 201-494-2121.
Automotive Key Copy Service
Though we specialize in replacing missing keys and car remotes, some people like to think ahead and let us make an extra copy before something happens to their old one.. As car key replacement experts serving Hoboken, NJ and the surrounding areas, we highly recommend to double-check your spare car keys every couple of months. If you don't have a copy of your auto key, you may find yourself locked out, or in need of our services again in the future.
24 Hour Car Key Replacement Service
We have mobile technicians patrolling the streets of Hudson County, New Jersey on a 24-hour basis, making car keys on a short notice or by appointments. It's kind of nice knowing you have a business who can provide your peace of mind at desperate times. Whether you need a car key replacement in the middle of the night or early in the morning, our team in Hoboken can be at your service rapidly. So contact us now for emergency, fast response 24 hours a day!
Hoboken $19 Car Key Locksmith!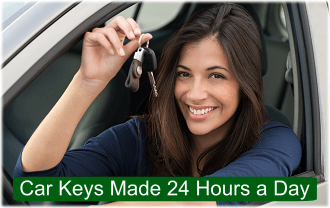 Sadly, different cars require different types of replacement keys.. That is why every mobile car key service in Hoboken will have to send someone out to your location to estimate the cost. Usually, most key replacements cost about $99-$149 per one set. But the price may vary according to the car's model and make.
Of course we cannot come to you for nothing.. So we charge only $19 for the trip (service call fee). There's no reason to wait. Call 201-494-2121 today for the most affordable car key replacement Hoboken, NJ have to offer her tenants!